Meet the priests of our Archdiocese of Boston.
Our priests console us in times of sorrow, rejoice with us in times of celebration, and support us in any way they can whenever we need them. They are the true stewards of Christ's love and mercy in both our parishes and our communities at large.
We invite you to read the stories of these wonderful men. From parish priests to fire chaplains and traveling missionaries, the stories of our priests show a joyful dedication to, and love of everyone they encounter.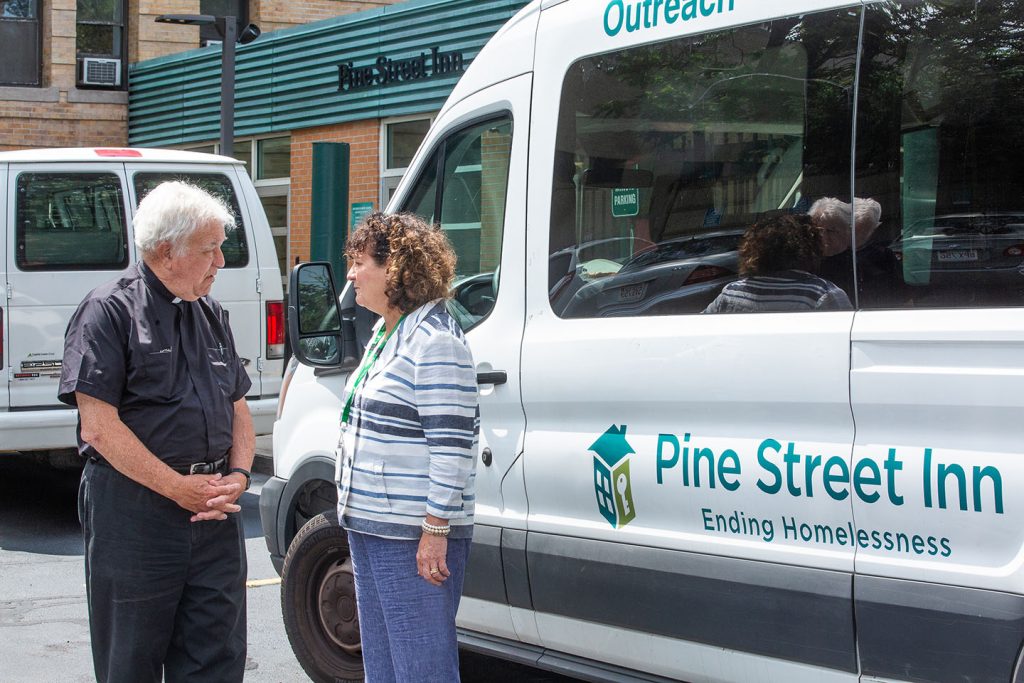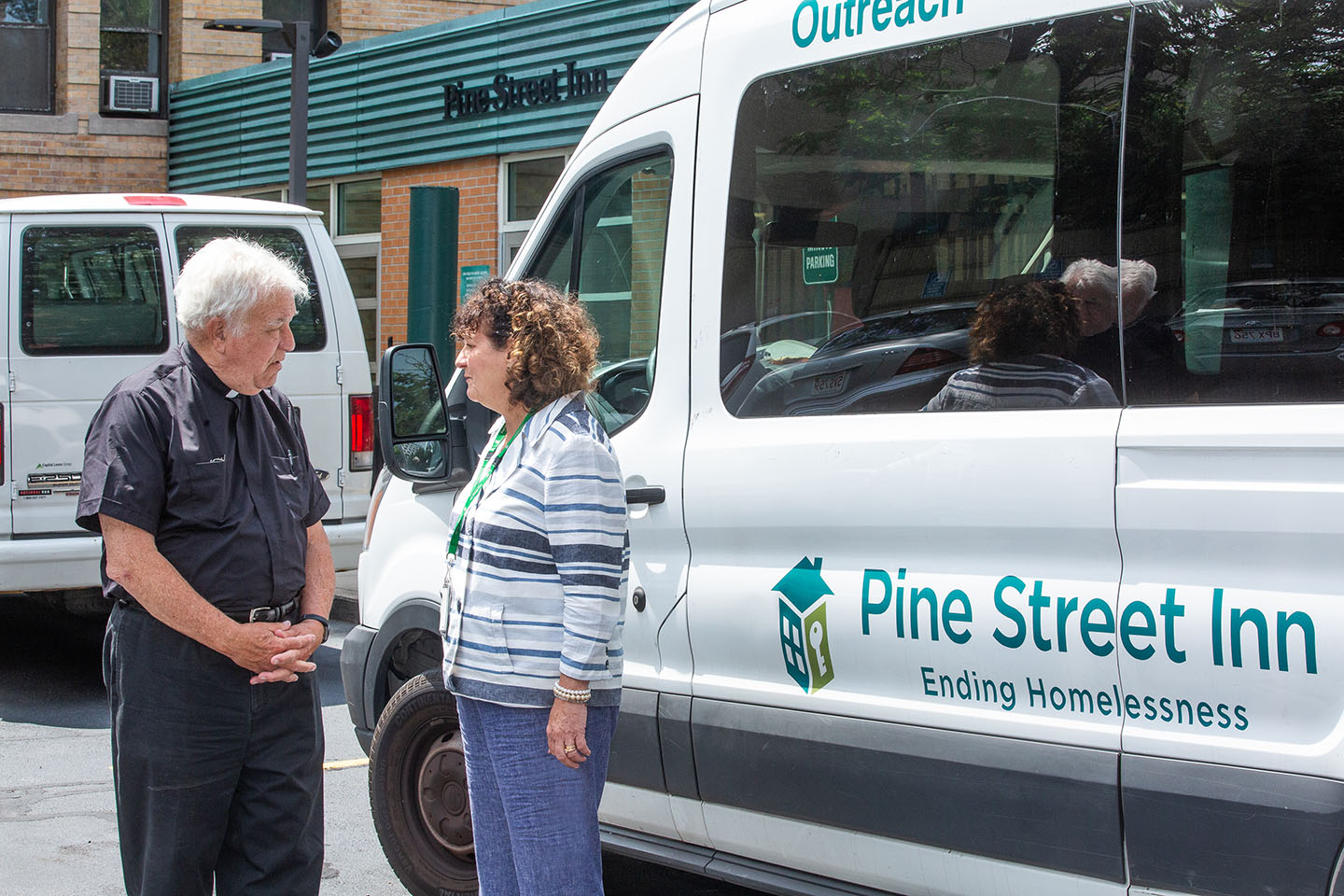 Msgr. Francis Kelley and Fr. William Joy
The Pine Street Inn: Building a Welcome Home for Boston's Homeless
Most people think of Boston as the home of renowned landmarks like Faneuil Hall, Fenway Park and the Emerald Necklace. But what many don't know is that, thanks in large part to the tireless collaborative efforts of Monsignor Francis Kelley, Fr. William Joy and the Association of Boston Urban Priests (ABUP) over the past half century, Boston is also a city where 97% of its homeless population have found a home within the walls of the Pine Street Inn.
With its comprehensive programs geared toward guiding residents through the burdens and life challenges that led them to Pine Street's doors, the Pine Street Inn represents far more than a home for Boston's homeless. It also represents a second chance at life.
"The Association of Boston Urban Priests (ABUP) created what we know today as the Pine Inn…It was an effort, I think, on behalf of Father Kelly and the other people involved in ABUP to do something important to the city and to step in where nobody else would at the time, because I think people were afraid."

Pine Street Inn CEO and President Lyndia Downie
Father John Unni and Father Dan Mahoney
Answering the Call for Boston's Firefighters
When a fire breaks out and all hope seems lost, the first people we turn to for relief and rely upon for bravery are firefighters. But who do firefighters turn in their times of crisis, when the call of duty results in tragedy?
For the Boston Fire Department, the answer for the past 100 years has come in the form of a fire chaplain. And this means that current fire chaplains Father John Unni and Father Dan Mahoney are often the first people they seek out in times of despair that challenge their faith.
Like their fellow firefighters, Unni and Mahoney's role entails that they be on-call at a moment's notice to provide much-needed solace and counsel for their fellow firefighters when tragedy strikes. And it's a call that, time and again, Mahoney and Unni have embraced.
"Chaplains are usually the first call when we have a tragedy. Firefighters come to work every day. It could be their last. It's hard to predict. We've been blessed with some outstanding chaplains who really were involved in the lives of our members. They commit so much of their time and energy to firefighters."

Commissioner Joseph Finn
Father Joseph Linh Nguyen
Bringing Vietnamese tradition to Boston, and all Closer to God
If you attend the Sunday morning mass celebrated by Father Joseph Linh Nguyen at St. Mark's Parish in Dorchester, the first thing you're likely to notice is how heavily the mass is influenced by Vietnamese culture. But the next thing you'll notice is how warmly the mass has been embraced not just by the local Vietnamese Catholic population, but by everyone who walks through the parish doors.
Nguyen, himself a Vietnam native whose family immigrated to America and settled in Dorchester when he was a teenager, is well aware of St. Mark's long history as a haven for Vietnamese immigrants adjusting to a brand new culture. Now, as the pastor of his childhood parish, Nguyen embraces the opportunity to carry on the tradition of fostering an environment in which Vietnamese parishioners feel at home, and all feel welcome to celebrate their faith as one body in Christ.
"To build a strong community and to have that connection with the outer community. I think will make our city better, make our neighborhood better because we're not so separate. I like the word contagious. Good things can be contagious as well."

Father Joseph Linh Nguyen
"You can't ask for a better kind of environment that he creates for openness and bringing people into the Church."

Francis Lydon, Parishioner
Father James Ronan
Building a Bridge, from Charlestown to Ecuador
Father James Ronan is a beloved figure in Charlestown for the many things he does to strengthen his local community as the pastor of St. Mary-St. Catherine of Siena Parish. But Ronan's impact extends far beyond his parish walls – and in fact, far outside of the country – thanks to his Rostro de Cristo ("The Face of Christ") initiative, a program that sees Ronan brings volunteers to Guayaquil, a destitute village in Ecuador.
Ronan and his fellow volunteers, who range from teenagers to adults, work together to introduce the locals to after-school programs, medical clinics, community-based projects and parish activities that meet their human needs and bring them closer to God.
Being present to the Guayaquil locals often proves to be as eye-opening as it is rewarding, leaving the volunteers with an enriched understanding of how to bring others closer to God within their own community.
"Whether it's in Ecuador and it's in a small recinto far out that it took hours to get to, whether it's in Charlestown or in Lawrence, Fr. Jim Ronan has a guiding core belief that as priest, his vocation is to empower the people that he serves to be unique expressions of God's love in the world. My experience in Ecuador as a senior in high school is the cornerstone of what I do."

Dr. Edward Hardiman, Headmaster of St. John's Prep, Danvers
Father Paul O'Brien and Hector Heredia
From Homeless to Hopeful
Hector Heredia first showed up at St. Patrick's in Lawrence as troubled teenager simply looking for a pickup game of basketball and something to eat. What he didn't realize was that wandering into the St. Patrick's gym would be the beginning of a lifelong, life-changing friendship with Father Paul O'Brien.
After learning that Hector was homeless and living out of his car, O'Brien became like the father figure Hector never had: checking in with him regularly, pushing him to do his homework, and encouraging him to set his sights on graduating from college. It was the first time in Hector's life that the thought of college even occurred to him.
O'Brien made such a tremendous impact on Hector's life that, after graduating from Regis College, he decided to become a guidance counselor. To be for other struggling kids what O'Brien was for him.
"Father was there in every way you could think of in my journey. If you love someone the way Father loves and cares for other people, that's going to be the help that everybody needs. If it wasn't for that, I don't know what I'd be doing at this time."

Hector Heredia
Boston Priests and The Muldoon Family
Facing Life with Faith at Every Phase
As kids growing up in the same neighborhood in Dorchester, Kevin and Patricia Muldoon would meet up on the street corner on Sundays and walk to church Parish together. More than 40 years of marriage, four children and 12 grandchildren later, Kevin and Patricia have walked hand in hand together to face all of life's challenges.
And both claim that it was the support and guiding light provided by priests at every phase of life that has made the journey so rewarding and filled with so much meaning.
"As parents, our faith life has helped us to guide our family. Without our faith and without the fortune of being able to meet the priests who have had such an impact, I think our lives would've been empty."

Patricia Muldoon
"Throughout our lives, priests have been a constant presence, from the time that we've been just young kids, through our marriage, as we had our children, bringing them up, and now as grandparents. It's because of the priests bringing that aspect [of faith] out into our lives that Christ is a part of everything we do."

Kevin Muldoon